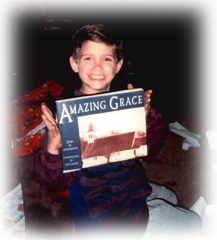 The Samuel McKay Everett Foundation is dedicated to educating children on:
Being safe around people
Finding inspiration and self-confidence in facing life's challenges
Being moral and ethical leaders
The Samuel McKay Everett Foundation
For those of you who do not know the story of McKay Everett, the son of Paulette Everett; in 1995, a former law enforcement officer abducted McKay in an attempt to extort a half million dollars to cover gambling debts. The kidnapping was bungled and the kidnapper murdered McKay in an attempt to cover the crime.
Child Safety Programs for Children
Paulette Everett, wrote a book, Waltz With Insanity, about her experience and recovery from grief. More important she has created this safety program for children named after her late son. The current curriculum is for the third, fourth and fifth grades; keep checking back here as younger children's curriculum will soon be completed. These learning tools, some at no cost and others at a cost that defrays the expense to produce them, are available to any parent or teacher, and are written from a child's perspective about how to avoid and get out of dangerous situations.